Property platform ProperDee has added new industry experts in preparation of their formal launch – Press Release, Real Estate
Thailand's nascent e-commerce industry is thriving and making serious money. According to the Ministry of Digital Economy and Society, Thai e-Commerce grew the most in ASEAN, the value of Thai ecommerce grew 14% in 2018, estimating that the value would increase to USD 103 billion, and its growth is expected to hit 20% this year.
The region is flourishing
According to the report Asia-Pacific B2C E-Commerce Market, over one half of total global online retail sales happens in the Asia-Pacific region. Over 50% of all the online shopping for retail goods and services takes place in the Asia Pacific region, and South-East Asia accounts for about 40% of the e-commerce market of the region.
Southeast Asia is definitely a new big e-commerce hit, and the region is currently a very attractive market for big players involved globally in the e-commerce sector and smaller local companies.
At a reflection point of Internet penetration and mobile devices rapid spread, the population of Southeast Asia is quickly adapting its behaviors to take advantage of new purchasing products and services online opportunities.
According to the latest e-Conomy Southeast Asia 2018 report from Google and Singapore-based Temasek, the digital economy in Southeast Asia is on track to hit $240 billion by 2025, which is $40 billion more than previous estimates.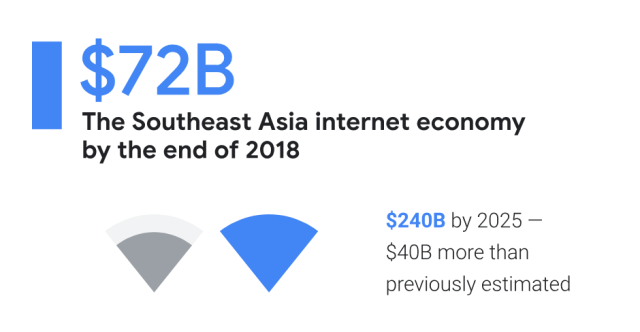 As e-commerce continues to grow exponentially, Southeast Asia will account for 20% of worldwide e-commerce by as early as 2022.
Thriving Market
With a GDP worth of USD 602 billion, Thailand is the second largest economy in Southeast Asia, surpassed only by Indonesia. In addition to that, according to EcommerceIQ research, Thailand is also the second largest Business-to-Consumer (B2C) e-commerce market in the region.
At present, the Thai ecommerce market is valued at USD 3.5 billion. According to a Google Temasek study, Thailand's e-commerce market value is expected to surge to 13 billion USD by 2025 on the back of strong global demand for Thai products.
As Ebay's General Manager for Hong Kong, Taiwan and Southeast Asia border trade Jenny Hui has stated, Thai products are in global demand, with jewelries and watches, health and beauty products, auto parts, home and garden, and collectibles rapidly gaining popularity.
Electronics is currently the leading product category, accounting for USD 1.3 billion market share.
Fashion is second, accounting for USD 525 million. According to Statista, online shoppers in Thailand spend on average $283.95 USD online annually, and four years from now, this sum is expected to grow to $401.73 USD.
Young Mobile-First Generation of Users
What makes the country a true breeding ground for ecommerce is its great number of internet users – one of the highest in Southeast Asia. At present, Thailand has an Internet penetration rate of 57.4% with Millennials making up the majority and spending on average 53.2 hours a week online.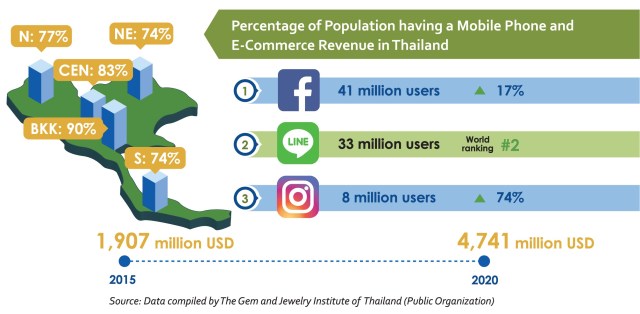 When comparing the number of Internet users over the past 10 years, there were only 16.1 million Internet users in 2008 and the number reached approximately 45 million in 2018; moreover, at present there are 124.8 million mobile subscribers, 44 million people using LINE messenger and 52 million Facebook users.
Internet-savvy young people here definitely play a key role in driving mobile commerce. Thailand is a regional leader in mobile commerce, as 52% of online transactions take place via mobile devices (only South Korea is higher with 58%). According to the Thailand Marketing Research Society, 71% of smartphone users in Thailand shop online an average of twice a month, while 90% intend to shop online in the future. 
On top of that, a growing middle class with increasing incomes also plays a huge role in…